Our aspiration is to promote awareness of health tech patient safety and operational principles for the benefit of various actors. Thus, we offer our expertise for developing successful business in the field of health tech.
Our service offering consists for example of organizational development, market research, product management and strategies, and professional resources. We also help in finding suitable partners and subcontractors!
Business health check
Recognize critical development areas and strengths in terms of your business and product
Health check is a great starting point for development of your business and product to health tech field. We review operational models and guidelines, compile a report of strengths and areas to develop and present suggestions for development in priority order.
Health check is designed for organizations involved in the life cycle of medical devices or software, industry newcomers, investors requiring more information about a company's status, and research institutes and universities wishing to commercialize research results.
The following topics can be reviewed:
Development of critical regulatory areas, e.g. Medical Device Regulation (MDR, EU 2017/745) In Vitro Diagnostic Regulation (IVDR, EU 2017/746) and General Data Protection Regulation (GDPR, EU 2016/679)
Local regulations in a single European country or other main market area (e. g. USA, FDA)
Risk management with patient safety focus
Market specifics in a single country
Critical business areas with competitiveness focus
Obstacles for business and sales
User experience and risk regarding a product or a service
Business development, markets, and sales support
Get even more power to your business
Successful business is a combination of planning and actions. We offer our extensive health tech expertise to support with both: we help with planning a functional business model, commercialization of a new innovative product, and initiating sales.
When you aim for new markets, Clinipower can conduct market research for you to map out business potential. Our specialty area is German speaking Europe, that is, DACH area. We also investigate reimbursement solutions and make applications and market research related to it.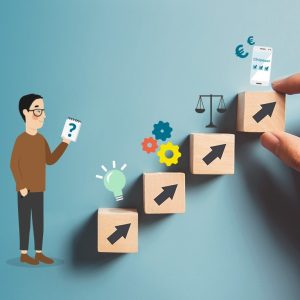 Management support
Support for health tech organization development
In the health tech field, operational practices that are in accordance with regulative requirements are an inseparable part of organizations. When a new organization is founded, the requirements can be taken into account from the very beginning. Transition to the health tech field usually requires changes in operations of an organization and individuals.
Clinipower offers support in organization development and change management when entering the health tech field. We consult management about field specific management principles.
Product management and strategy
Systematicality to products in a health tech field specific way
A product strategy points the direction for decision making to achieve the defined objectives. Product management and portfolio management aims to ensure success of products and competitiveness of an organization.
In the health tech field, one must understand clinical environment and consider the regulatory life cycle and certification when planning product strategy and management. We offer field specific support in designing product strategy, product management and portfolio management.
People and expertise
We offer our experience and know-how for your benefit
You can make big things even with small resources with the help of our expert advisors. Clinipower provides competent professional resources for a specific project and specialized areas of expertise, and for example for short term needs in case of personnel changes. As an example, our quality manager -service is a cost-effective way to take care of regulatory requirements and communication with authorities.
We also help in finding suitable partners and subcontractors.
Clinipower arranges extensive training programs or targeted courses on specific topics to support expertise in your organization. See up-to-date details on our Koulutukset-page (in Finnish) or contact us.
Read more
Thursday 26th of May 2022 is a significant day for those operating with in vitro diagnostic (IVD) medical devices in…
Laatukeskus Excellence Finland and Clinipower Finland Oy have become collaborators. Aim of the co-operation is to develop joint service offering…
In February 2022, Clinipower became an advisory board member of Finnish Quality Association. Along with the updated membership, Clinipower team…